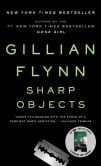 I read this book for the Pop Sugar challenge category first book by a famous author. I have now read all of Gillian Flynn's books. Of the three, Dark Places was my least favorite.
I really enjoyed this book. To me, it is typical Flynn. While her books have plenty of unexpected twists and turns, her writing isn't about the big reveal. It's the slow build up and ultimate climax as to why people do the things we do. All of her characters are flawed because they are REAL. No one is entirely good or bad, though I suppose some people come close.
This book is about a reporter from Chicago who has to go back to her home town to report on what appears to be a serial killer taking little girls. You can feel her angst and reluctance to go back, the awkwardness she has with her family- the way she has been relegated to an unwanted guest in her childhood home. Camille struggles to face her own demons while working to uncover the truth about what happened to the towns little girls.
I really enjoyed this one. 5 out of 5 stars. If you like psychological thrillers, definitely give this one a try.