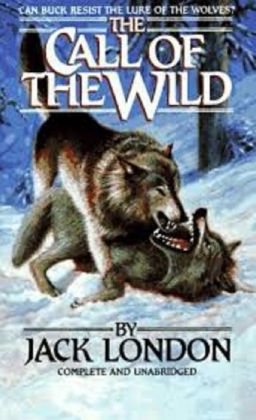 Jack London has been one of my favorite authors for a long time. I read White Fang when I was 14 years old, and to this day, it is one of my favorite books ever. I never read this, his more famous work, until now. I once caught a brief glimpse of the movie with Clarke Gable and just didn't think my heart could take it. I was probably right.
One writing style alone, this one deserves 5 stars. London crafts beautiful sentences and creates environments that are so real, you feel you are there. His depiction of the klondike along with his descriptions of the nature of the men and creatures who live there is simply breathtaking. His sentence structure is perfection. It's hard to believe that this work was serialized by the Sunday Evening Post in 1903. When compared to our papers of today, we seem to have declined quite a long way when just the quality and difficulty of the text is considered.
This was a difficult book for me to read, being an animal lover. There are so many examples of the cruelty and often stupidity of humans. Buck suffers so greatly in this book and yet, his spirit is not defiled. There are moments of compassion and love also demonstrated, but that really isn't the point of the story. I'm glad that I finally read this one, but where I read White Fang over and over, this is a one time read for me. Still, Jack London has been firmly ensconced in my heart forever as a great American writer.