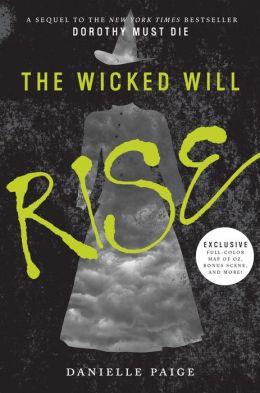 I've been waiting for over a year for the release of this one. I am a huge fan of all things Oz, and I absolutely love the fresh perspective that Danielle Paige has given to such a familiar literary landscape. If you haven't read the first book in the series, Dorothy Must Die, stop what you are doing and read it!
In the sequel, our heroine Amy, is struggling with her failure. The Revolutionary Order of the Wicked is spread to the four winds and Nox is nowhere to be found. Our friends, Ollie and Maude, are back and they help Amy make her escape from a burning Emerald City. Ozma is also with them. While things look pretty bleak - all is not lost - the magic is returning to Oz.
In this sequel, we meet so many new characters and places that really add to the depth of Oz. I particularly enjoyed the Island of Lost Things. I am sure that have a whole pile there with my name on it. Polychrome is a fantastic new character, as is Lulu the Queen of the Wingless Ones. As brilliant as I thought Dorothy Must Die is, this one captivated me for different reasons.
SPOILER ALERT!!!!
The situation with the Scarecrow was a bit of a let down. I really had him built up in my mind, but upon reflection, what actually happens seems somehow more fitting. Oh, and the cliff hanger! I'm reading along.... waiting for Amy to take up her place... and then NOTHING. OMG, how long do I have to wait for the next one?? However long, I will be looking forward to hearing how the story finally ends. 5/ 5 stars.