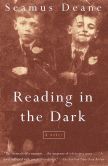 Well, if ever there was an Irish tale, this certainly is it. Beautifully written in that lyrical way that so many Irish writers have, this is the story of life in Ireland both before and during the Troubles. It's a disjointed collection of seemingly unrelated stories that all come together to tell the tale in the lives of one Irish family. And oh, what a tangled web it tends to be.
I enjoyed this book for several reasons. First and foremost, it reminded me of my time in Ireland. I could see the people, the places and hear their stories. Some of the places mentioned like Inch Island, the Derry peninsula, various loughs ( that's lake for those who didn't know) all were places I had been. Other sights mentioned in the book, various churches, pubs, and gathering places could have happened anywhere in Ireland - they represent the spirit of the place more than any one place in particular.
I loved the lore in the book, Finn McCool, the Fianna, Tara, mermaids.... wishing chairs. It's magic. Just like Ireland itself. My favorite passage from the book....
I imagined I could hear the breathing of the sleeping Fianna waiting for the trumpet call that would bring them to life again to fight the last battle.......after which, one remaining English ship would sail out of Lough Foyle and away from Ireland forever...."
It brought my time in Ireland back to me. Here are some pictures of my own trip, taken with my Dad some twenty years ago now.... but for an Irish girl.... Ireland remains in my heart forever.
The cliffs of Inish Moor
My Dad at the Hill of Tara
Remembering a fallen Hero - at Michael Collins ambush site.
If you have never been to Ireland, and get the chance to go..... DO IT.