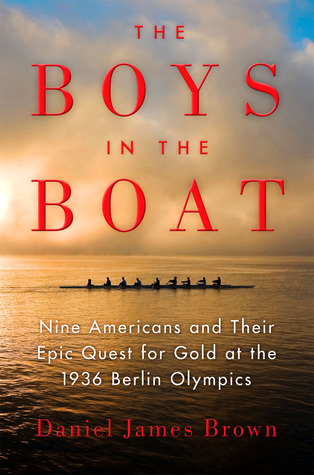 I wanted to love this book. Everything about it is right up my alley - the time period, the Olympics, underdogs taking on a perhaps superior opponent..... But in my mind, it was only ok and here's why....
All sports books, in my opinion, start out with a single great event as their focus. All the surrounding material leads up to that one epic event. It's the same here. The story is about 9 men from Washington state ( well some were from other places but they went to school in Washington) who went on to represent the United States in the 1936 Berlin Olympics. What a great event - Americans - taking on Nazis.... what's not to love?
Well, the often downfall of said sports books is the background material for "the event". After all, a story just about the race itself wouldn't fill a chapter, and admittedly, the background of the boys in the boat is part of what provides the charm for the stories. That said though, it is easy to get too caught up in the individuals without telling the collective story. I think that is a bit of what happens here. At times, you are caught up in the telling of the story, only to be pulled away to be told a side story ( or backround story) of one of the individuals involved. At times, this made the story feel like it dragged and I got bogged down in the minutiae.
There was so much material - just discussing the pure scope of the Olympics itself - all the hard work Germany put in - the fact that it was the most well attended Olympics up to that time, the radio improvements that were completed to make the Olympics more accessible.... there is just so much here to discuss.
But for me, the bottom line is that the Olympics is not something that I, in general, feel translate well on the written page. The Olympics are a moment - something we all share together at the time. For example, I read a book about the 1980 hockey team. It was ok. But it will never take the place of my ten year old self, watching those boys struggling on the ice... trying to beat the basically professional team fielded by the Russians... and finally, FINALLY that moment.... that incredible moment when against all hope, against all belief.... DO YOU BELIEVE IN MIRACLES????? The puck goes in and the crowd chants USA< USA. I held my breath, I laughed, I cried and I experienced that moment with the world. As much as I love to read, it just wasn't the same experience.
So while I wanted to love this book and while it pains me to say it.... for me, it was only ok.