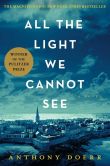 Wow! This book is truly amazing. It's a bit of a slow start, but so very worth any effort to get into the story. Doerr masterfully winds these individually beautiful stories into a true tour de force.
This is the story of Marie - Laure, a sixteen year old blind girl living in Paris during the Nazi invasion. She and her father are forced to evacuate to the home of her great - uncle, Entienne. I love how Doerr creates such a rich and colorful cast of characters. There were not just one, but several who I could relate to and cheer for.
It's also the story of Werner, a young boy who wants to make something of his life who ends up in the German military. He's an orphan and his story line also has a bevy of rich and wonderful characters. Some are good and some are truly everything that is horrible about humanity. I have to say that Frederick was my favorite.
The beautiful ways these stories come together - masterful. It's been a long time since I have read a book this well written.
If you have not read this book, you are truly missing out on something wonderful. Do yourself a favor and read it.