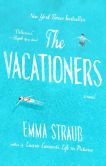 This is the story of a family presumably doing their last vacation together as their daughter has just graduated from highschool and will be off to college. It's an interesting cast of characters. First their are Franny and Jim - the parents. Things have obviously gone terribly awry in their relationship. Somewhere along the way, they got caught up in the rest of their lives and lost one another. During this vacation both will be deciding whether they can go forward - together.
There is also their adult son and his girlfriend, Carmen. Bobby has lost his job as a real estate agent and has been working at the gym where his girlfriend is a trainer basically selling memberships. He is on this vacation because he wants something from his parents. Will he find what he needs and finally become an adult?
Sylvia, the daughter, is counting the days until she gets away from her family. Her big goals for the summer include brushing up on her spanish and losing her virginity. I did love the comic relief that she provided to the rest of the family, especially the contentious relationship she had with her mother.
Finally, there are Lawrence and Charles a homosexual married couple trying to adopt a baby. Charles is Franny's best friend and that is how these two have been included in this adventure. I could definitely relate to Lawrence and his quest to have a child. He is probably my favorite character in the book.
As far as I am concerned, the big star of this book is Mallorca, Spain. The descriptions definitely made me add this spot to my list of places that I want to see. All in all, the book is well written, the characters well developed. It was a quick easy read and while I found it entertaining it really didn't move me on any level. I give it 3 out 5 stars.