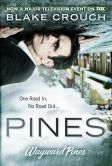 I read this one for the PopSugar Reading challenge book made into a TV series. And wow, just like that, my reading rut is over. I just finished a group of just average books and then I read this one. It's a blockbuster!
A friend on Facebook recommended this book for this category and since I had already read Game of Thrones, this looked interesting. I'm so glad I picked it up. It's the story of Ethan Burke, a secret service agent who is investigating the disappearance of 2 other agents. He is involved in a car accident and wakes up in a town called Whispering Pines, where absolutely nothing is as it seems.
So many twists and turns and I, for one, never saw this one coming. Very creative and original story lines. I loved the message in the book, though you have to really wait for it. After a string of 3 and less stars.... this one is a 5 out of 5! If you like thrillers, you will enjoy this one. And with Matt Dillon in the series, I may even check that out, too.