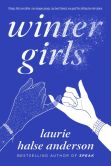 Laurie Halse Anderson is a master at truly meaningful works of literature intended for a young adult audience. I read her book, Speak, last year and she is now one of the few authors who I try to read consistently.
Like Speak, this book deals with issues affecting young girls, in this case, eating disorders and literally dying to be skinny. Lia and her friend, Cassie, make a promise to each other that together they will be the skinniest. Cassie is a bulimic who regurgitates everything she eats. Lia, on the other hand, suffers from Anorexia.
You talk about a book that will scare you? Well, as the mother to two girls, this book is way beyond frightening. It's incredible how far girls will go in order to be skinny. The glimpses into Lia's psyche are especially intriguing. It's so hard to imagine a girl who will literally starve herself to quite the negative voices in their head, but that is exactly what anorexics do.
I thought this book was very compelling. I can't say that I enjoyed it, but I do think that I learned from it, and that I experienced some understanding to how a person with this problem may think and feel. Once again, Laurie Halse Anderson does a fantastic job in helping the reader connect with her characters, even when dealing with these extremely difficult and very real issues.