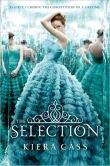 This story is the equivalent of The Hunger Games meets the bachelor. America Singer is a Five, living in what was formerly the United States, but after World War 3 and 4, is now the country of Ilea, named after it's King. The society is very stratified with little movement available among the castes.
America Singer is in love with a Six. She and Aspen have been planning a future together. In spite of the differences in their castes, they are sure they can make it work. Then comes the Selection. In the Selection, girls from every caste have the opportunity to meet with the Crown Prince, Maxon, and eventually become Queen of Illea. For some girls, this seems like a dream come true, but for America Singer, it means leaving everyone she knows and loves.
All the characters have various facets to them. America is hard working and talented, loyal and feisty. Hey, she is a ginger. Aspen is caring, selfless and sacrificing for those he cares about. Maxon is a tougher character to know and understand. He wants to find a love, he needs to find a Queen, and this is a difficult task, at best. Is the Maxon we see real? Or is it just put on for the competition? What choices will America make?
I enjoyed this book thoroughly and I definitely will be cheering America on as she goes through the competition.