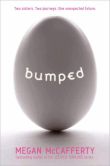 I read this one for my Flights of Fancy challenge. It was a really interesting mash up of The Handmaid's Tale and The Wolf of Wallstreet. The basic premise is this, 93% of the population has contracted a virus which makes them completely infertile. The hope of humanity? Apparently teenagers retain their fertility until they are approximately 18 years old. ( God help us all)
Melody is the first girl in her school to go Pro. She is selling her Pregg ( her pregnancy and ultimately her baby) to the highest bidder. The family who hires Melody to be their Suragette, also hires number one man-candy Jondoe to "bump" with Melody. The only complications? Melody's twin sister Harmony and Melodies pre- agreement with Zen, who she has feelings for.
I loved the concept. The writing was entertaining, but certainly not Pulitzer worthy. Still, a 3 out of 5 stars and an entertaining summer read.
Up next? The Zoo by James Patterson.