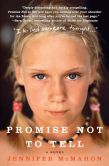 It was difficult to decide what book I would read after All the Light We Cannot See. I decided that I would go with a thriller because, since it isn't my favorite genre, my expectations are not exaggerated as when I am reading a much anticipated novel of another type.
At any rate, I thoroughly enjoyed this one. My usual problem with thrillers is that I sometimes see the twists and turns coming or determine right away who the "bad guy" is ( aka The Good Girl). Definitely not the case here.
This is the story of Kate, a 40 year old woman who goes home to deal with her mother's physical and mental decline. When she does return, she has to face events from her past - the murder of her best friend.
This book also has an element of the paranormal, which is just enough to add to the intensity and suspense but is not overdone. It was quick and enjoyable.
I give it 3/ 5 stars and would recommend it to those who enjoy thrillers. It would make a great beach read because it is quick and engaging.