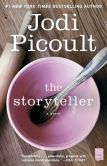 This one has been sitting on my shelf for a while, but I finally got around to reading it. I was hesitant at first. You see, I enjoy Jodi Picoult but the thing is, she only hits it about half the time. 50% of the time her books are wonderful - like 19 Minutes - and the other 50%? They are horrible - like Lone Wolf. So I was a little reticent to read this one as I didn't know which half it would fall into.
This is the story of Sage Singer, a young woman who has experienced some tragedies in her life. The loss of her parents drives her into a grief therapy group where she meets and elderly man, Josef Weber. Sage and Josef develop a rapport and eventually a friendship. Josef helps bring Sage out of her shell, until he makes a strange request and reveals a horrifying secret.
Picoult weaves the history of Sage's family into the fabric of life along with the history of Josef Weber. It's amazing to watch the story spin. It's also difficult to read at times, but important to remember. I fell in love with the sweet, old, dog- loving man that Josef Weber was. I was horrified with myself when his secret was revealed. I loved that I could experience Sage's attachment and horror right along with her. That is truly good story telling. I gave this one 4 - 5 stars.