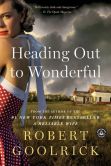 This had been on my TBR pile for a while. I read A Reliable Wife some years ago and absolutely loved it. Then I read his memoir, The End of the World as We Know It, and while it wasn't great, it was extremely well written. When I saw this book, I put it on my TBR pile and there it has sat for some time.
Then the challenge came along and one of the categories was "a book on the bottom of my TBR pile" so this one finally came off the shelf and was read.
Like all his books, this one is extremely well written. He uses an absolutely beautiful turn of phrase and paints beautiful pictures of his characters and the setting of his books. This one is tragic. It's about a young man coming home from the war with nowhere to call his own and nothing but a pick up truck and a suitcase full of cash. He's looking for something wonderful and thinks he's found it in wanna be starlet and married woman, Sylvan Glass.
For a while, I thought that something bad was going to happen to either the little boy or the dog. It didn't ( Good thing because for me, if the dog dies, the book is OVER). I can't say that this was predictable, but it just didn't resonate quite the way that A Reliable Wife did. Still, 4 out of 5 stars for his stunning writing.